Exclusive leotards for your gymnastics champion!

Nice that you are taking a look at the website www.ZLturnpakjes.nl. ZL is short for 4-year-old Zoey Lynn. Together with her mother she shares a great passion for gymnastics and allows her to be a gymnastics trainer. A search for the perfect package for Zoey began, but where do you actually find a package that is just that little bit different from all those others? That turned out to be a real challenge and mother decided to put her ideas on paper. Six months later the time has finally come. www.zlturnpakjes.nl is live. With our own collection of gymnastics clothing, we hope to find people who, just like us, are looking for an exclusive beautiful outfit for yourself or daughter. The sizes run from size 98/104 to XL.



NEW! Own design possible
Are you looking for an exclusive leotard for your club, a group of friends or other plans? Having your own design produced is now possible from 6 pieces. For more information, please contact us via the contact form.


Follow us on social media and stay up - to - date!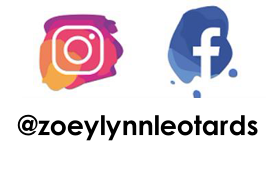 New in the webshop